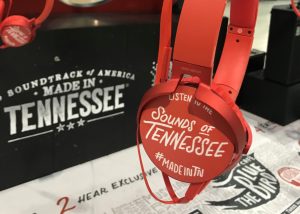 Sights & Sounds of Tennessee
An inviting exhibit at Waterloo station to interest UK travellers in the appealing sounds of Tennessee.  It follows British Airways' introduction of a five-days-per-week nonstop service from Heathrow to Nashville, the capital city and centre to Tennessee.
Each set of headphones plays a different soundtrack relating to the corresponding floor map. The stand has also been utilised for live music, showcasing the newest sounds in Americana to brighten up your commute!